Chiropractic Currently In The Country: Your Health and Safety Will Always Be Our Priority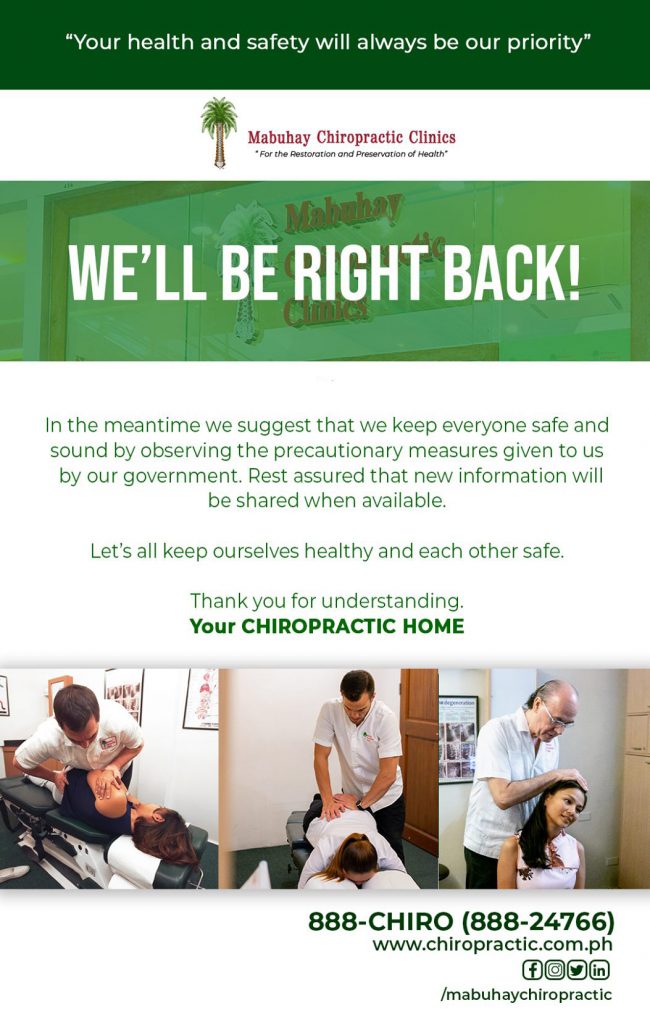 For the first time since we opened our first chiropractic clinic in 2006, Mabuhay Chiropractic Clinics has had to close its doors during this enhanced community quarantine. All our clinics in Bacoor, Las Pinas, Alabang, Mall of Asia, Glorietta, Forbes Park, Megamall and Quezon city part of NCR; and also closed are our five provincial clinics in Cebu, CDO and Davao. All temporarily closed until the travel ban is removed, then allowing our staff and our patients the freedom to come to the clinics and resume their chiropractic care. A necessary choice to participate in the containment of the Coronavirus plaguing the world for the safety of our staff and some 5,000 active patients.
Our primary concern is obvious, that not only will our patients under active care be suffering at home, being unable to undergo timely treatments; but also, those of our longstanding patients with partial permanent spinal damage are unable to receive preventive or maintenance care.
In a blog earlier this month we discussed how the stress resulting from this lock down is likely to cause more actual real time health problems than the virus itself. We have been educating the community on these various issues though www.docmikeblog.com and through our Mabuhay Facebook pages. It is expected that once the lock down is reversed, that the travel ban is lifted and we are able to re-open all our clinics nationwide, the demand for chiropractic care will greatly increase because stress multiplies pre-existing spine, nerve and musculoskeletal problems. This aggravates conditions with our existing patients and non-patients as well. Those fortunate to already have familiarity with chiropractic will be grateful to return and get the relief only spinal adjustments performed by our skilled Doctors of Chiropractic can administer. We estimate thousands of new patients will be entertaining the idea that now is the time to have their spine checked and get back on their feet after the effects of this extended quarantine.
There are concerns expressed by health authorities that there may be a second wave of the virus illness after the country returns or tries to return to normal living. We will be advising our patients on the best lifestyle that promotes a stronger natural immunity and to continue to follow lessons learned about social distancing well into the school year, for the added safety of our families. This, combined with a healthy spine and nerves, the proper focus on nutrition and fitness and getting proper sleep; this results in our patients will be positioned to have higher natural resistance to further viral exposures. This is what we can do to better prepare for the next wave of viral attacks.
Being healthy is after all the best defense to fight sickness, illness and disease. Our chiropractors are trained to service our patient community to gain this advantage with healthy living.
Get Healthy and stay healthy, says docMIKE!
Yours in Real Health,
docMIKE
If you liked this post, say thanks by sharing it!