Stress… the greater evil out of the corona-virus scare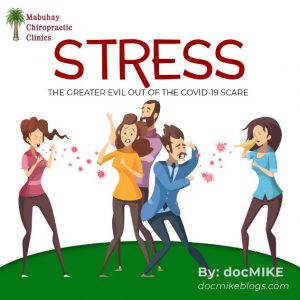 Our children are told not to attend school and we have a resistance to go into public places. Yet millions of Filipinos commute every day to work and are not contracting the virus. But we worry! That is completely understandable. Perceived threat is real stress for each of us at this time. But actual threat is extremely minimal. (3-10-20)
After weeks of enhanced community quarantine, USA policy makers have deemed that the cure (quarantine) may present a greater threat of increased deaths in their country than the virus, due to economic and mental anguish over that. Why? Because of the stress that results from a prolonged quarantine. (3/24/20)
What can chiropractic do to help you avoid the real health consequences of stress? Stressors are those things that cause you to react which makes you stressed. That has an immediate and cumulative physical effect on any health problems that you have now. It compounds your hypertension or your blood sugar problems or your asthma or or or. Stress increases back pain, neck pain headache; the most common conditions people see a chiropractor for. Stress can also affect your heart.
There's no single cure, but we're here as a public service to inform you that the smartest to do is to have your spine and nerves checked. Chiropractic holistic care builds natural immunity and reduces the negative effect of stress on your body and on your overall health. As soon as the travel ban is lifted, we will reopen our mall-based chiropractic clinics to serve the public and do our part toward restoring healthy productive people. Read our ongoing blog posts on health and safety measures you can apply right now.
Here is our Offer:
Mabuhay Chiropractic Clinic as a public concern is offering to check your spine to help you determine where to strengthen your nervous system and immune system both impacted during this virus scare by promoting the chiropractic lifestyle. Just Google us for the nearest location.
Mabuhay Chiropractic Clinic website
.
Get Healthy and stay healthy, says docMIKE!
If you liked this post, say thanks by sharing it!